Philippians 4:6-7 (CEV)
"Don't worry about anything, but pray about everything. With thankful hearts offer up your prayers and requests to God. Then, because you belong to Christ Jesus, God will bless you with peace that no one can completely understand. And this peace will control the way you think and feel."
Don't worry!
Paul's teaching on prayer and worry can be compared with Christ's words in the Sermon on the Mount about anxiety and God's provision - Matthew 6:25-34 NIV
A beautiful reading of bible verses which all reflect on the nature of God's peace. (This video includes Philippians 4:6-7):-:-
1 Kings 8:27-30 (GNT)
"But can you, O God, really live on earth? Not even all of heaven is large enough to hold you, so how can this Temple that I have built be large enough? LORD my God, I am your servant. Listen to my prayer, and grant the requests I make to you today. Watch over this Temple day and night, this place where you have chosen to be worshiped. Hear me when I face this Temple and pray. Hear my prayers and the prayers of your people when they face this place and pray. In your home in heaven hear us and forgive us."
Solomon's dedication of the Temple

Note the humility with which Solomon prays and gives the Temple to the Lord. A useful prayer for dedicating new church buildings to God.
Numbers 6:24-26 (NHEB)

"The LORD bless you, and keep you.
The LORD make his face to shine on you, and be gracious to you.
The LORD lift up his face toward you, and give you peace."



A beautiful scripture for praying for others with and blessing them with God's peace:-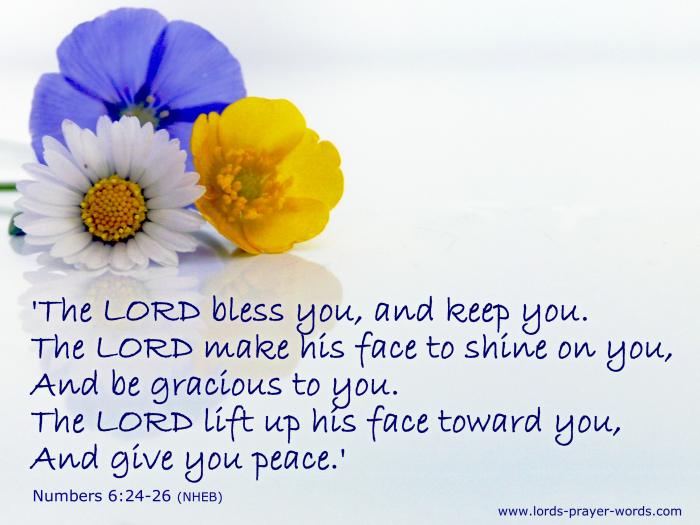 Psalm 139 (especially v7-10) (CEV)
"Where could I go to escape
from your Spirit
or from your sight?
If I were to climb up
to the highest heavens,
you would be there.
If I were to dig down
to the world of the dead
you would also be there.
Suppose I had wings
like the dawning day
and flew across the ocean.
Even then your powerful arm
would guide and protect me."
Psalm 139

A prayer to say to remind you that God is always with you - no matter what you do or where you go.