Morning Prayers for Children
It is a wonderful thing to pray with your children and share with them the joy of being able to connect with the maker of all things and the God who loves us deeply! This page has three simple and short prayers suitable for saying together with your children in the morning. The first prayer reflects on the excitement and joy of walking with God in the day ahead. This is followed by a more reflective morning prayer asking to be able to "hear your voice in the quiet". Finally, if you have a toddler, you may wish to say the "thank you" prayer with them.
morning prayer for children to say
Dear Jesus,
Help us to jump into this new day
With a song of joy in our hearts.
Fill of energy and hope
Holding tightly to your hand
Excited to share another day with you.
Amen.
(a morning prayer for children from www.lords-prayer-words.com)
Cheeky Monkey TV is a fun way of introducing prayer to children. In this episode, Cheeky Monkey has just woken up!
a children's prayer for the day ahead

Dear Father God,

Help me to hear you today.
To hear your joy in the birds songs.
To hear your heart in the chattery voices
To hear your voice in the quiet
Help me to hear you today.

Amen.


(a modern prayer from www.lords-prayer-words.com)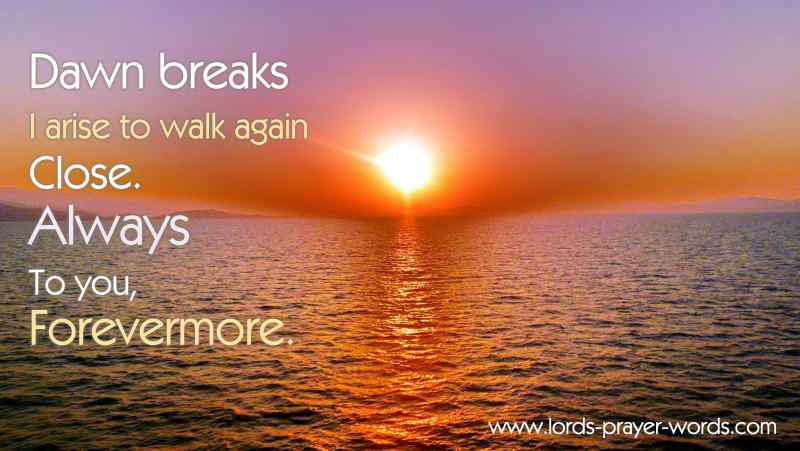 A thank you prayer to God for young children to say
(a prayer suitable to say with toddlers)
Dear God,
You made a brilliant world.
Blue skies and fluffy clouds.
Warm sun and night time stars.
Flying birds and swimming fish.
Tall mountains and deep sea.
Kind grandmas and fun granddads.
Funny brothers and caring sisters.
Lovely mummies and fantastic daddies
And wonderful me!
Thank you!
(a modern prayer from www.lords-prayer-words.com)